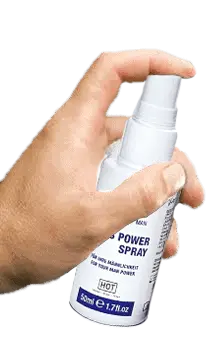 WITHOUT DELAY! Extra erection!
WITHOUT DELAY! Extra erection!
Repair on your life now.
How does
 Penis Power Spray

 work?

Our body is a complicated integral machinery and as any other construction can be set, adjustable and repairable. All, that we eat,, drink or do, directly affect how our body does the tasks assigned for it. We go into gym if we want to be stronger. We have a rest, if we want more energy. If we wish to increase our sexual performance, our body may draw strength from the natural components of the Penis Power Spray.

The dilation of the cavernous body in the penis causes the erection, that is caused by the streaming blood. The two spongy cylinders insure the cirkulatív stiffness and the erection. Penis Power Spray created a more increased erection reaction, so the erection can be reached more easily and it is maintained longer time.
Self-confidence can be found again, that the active and totally sufficient sexual life causes
Bigger ejaculation
Larger libido, better stamina, stronger sexual desire
More intensive erection
Bigger orgasm feeling
Obtain and experience even more pleasure!
Aktiv Penis Power Spary increases the delight in a different way, which is reasonable easily. The fact, that the erection lasts longer and harder, causes a much bigger delight.
Penis Power Spary rigid-enhancing components stand behind all these, which stimulate the receptors of the nerves and the genital organ is made more sensitive onto the touch, the moistness and the warmth. Finally, and maybe this is the most important from all of them: your self-confidence grows when you feel that your body brings its best form.
Be on the maximum and obtain all the pleasure for your partner, that you can give with your excellent sexual performance with all occasions. The largest enjoy, when we find out, that our partner has the most wonderful sexual experience of his life now.
A totally new product, which makes a strong and huge erection possible with all occasions when you want it only… Don't need to wait!
Strong and long-lasting erections!

Shortening the regeneration time between two orgasms

Increasing the sexual energy

It is a considerable improvement in your self-confidence!
Penis Power Spray Ingredients: GLYCERIN, AQUA, ALOE BARBADEN- SIS LEAFEJUICE,, POLYGLYCERRYL-10LAURATE, SORBITOL, LAURETH-9, POTASSIUM SORBATE, SODIUM BENZOATE, PANTHENOL, VANILLYL BUTYL ETHER, CITRIC ACID, CAMPHOR CAPSICUM ANNUUM EXTRACT, POLYSORBATE 80, HELIANTHUS ANNUUS (SUMFLOWER) SEED OIL, POLYGLYCERYL-6 CAPRYLATE, ROS MARINUS OFFICINALIS (ROSEMARY) LEAF EXTRACT
Some spontaneous appreciative letters from the product users.
I am 63 year one and daily 3 times make love! On the truth of your spray special product… yields a big erection when I want it only marvellously besides his usage being most discreet! I may reveal it about myself on 63 year ones, that daily 3 times make love! My wife observes that I am better after all occasions, than young person in soot!
I claim it surely: My penis is a bigger Latvian. I fight erection problems for a long time and I tried many products already and resolutely this best one! May be sure that the day or the night will be set up in any periods of his in him (excuse me for the expression). I am sure that my penis is a longer Latvian with quite a few centimetres in him moreover!
We use it together with my wife Penis Power Sprayt! I fought erectile dysfunctions and an early ejaculation in my whole life. But today already this that of the past! My wife both of them we use it Sprayt and great! I can until clocks even already now make love, he though under this many times capable to enjoy. We try even new things! I recommend it to everybody warmly!
The largest erection of my life! I have to relate it, I am under his effect even now, (just as well, than my wife!)… I had erectile dysfunctions always, I decided it because of this in such a way that I try this new product (although I did not add big hopes to him). And how well I made it! For Ön product gratitude, I may have experienced the largest and most wonderful erection of my life!.